No work today! And since there is no work, I had time to take photos!! I'm still trying to get use to the camera. I've always used a point and shoot... which is fine... but Ling has a pretty dope camera that I'm having fun figuring out. Its a Canon T2i. I never knew I was interested in photography until playing with it! Anyway, back to the make up. I'm wearing a hot pink shirt today and I have purple hi-lights in my hair, so I wanted to do a muted green look. So I grabbed my board (photos coming soon) of About Face pigments in green and got started. (Note: About Face Cosmetics has been discontinued.) I've been sticking to purples and just using eyeliner lately, so I had a lot of fun playing around and blending colors up. I did a pretty awesome look on Saturday night for the Linkin Park concert, but totally spaced on taking pictures. I used purples, blacks and glitter!!... my eyes wouldn't stop watering though. Okay, I keep getting carried away. Here is my look today: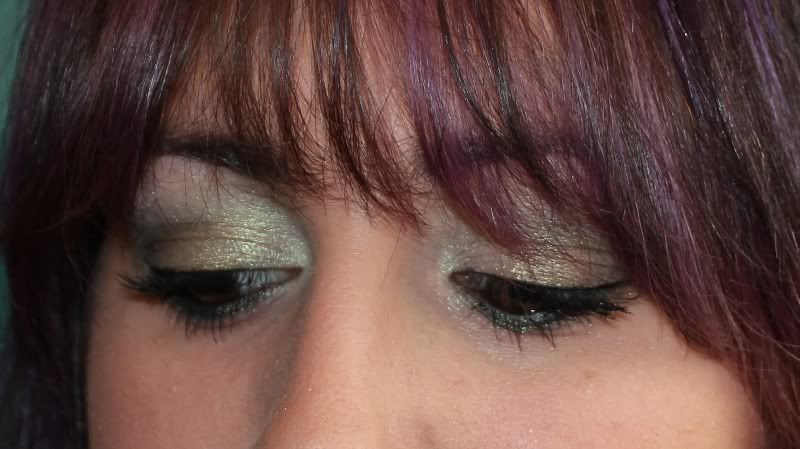 Face:
Nu Skin Moisture Restore Moisturizer
Revlon Color Stay Foundation - Medium Beige
e.l.f. Bronzer - Warm Tan
Ulta Blush - Heartbreaker
Eyes:
Palladio Eye Primer
About Face Cosmetics Pigments: Fashioned in Finland, Anti-Establishment, and Pearls & Stilettos
My Beauty Addiction
- Sphinx
Palladio Eye Ink - Black
MAC Fluidline - Blacktrack
Cover Girl Lash Blast Mascara - Blackest Black
Happy President's Day and thanks for stopping by!